Ahoj, snad se máte všichni úžasně a plníte své hudební plány na sto procent.
Dneska bych se chtěl podělit o mé nedávné zkušenosti se záznamem koncertu kapel Rusty Strings a Mimo děj, ale můžete je použít také pro záznam zkoušky vaší kapely(!). To se přeci hodí vždycky…
Hned si tedy ukážem výsledek:
Koncert to byl malý, kytarové aparáty, basa a ani bicí se nezvučily. Vybavení (mikrofony, zesilovač) bylo levné…prostě jako v normální zkušebně.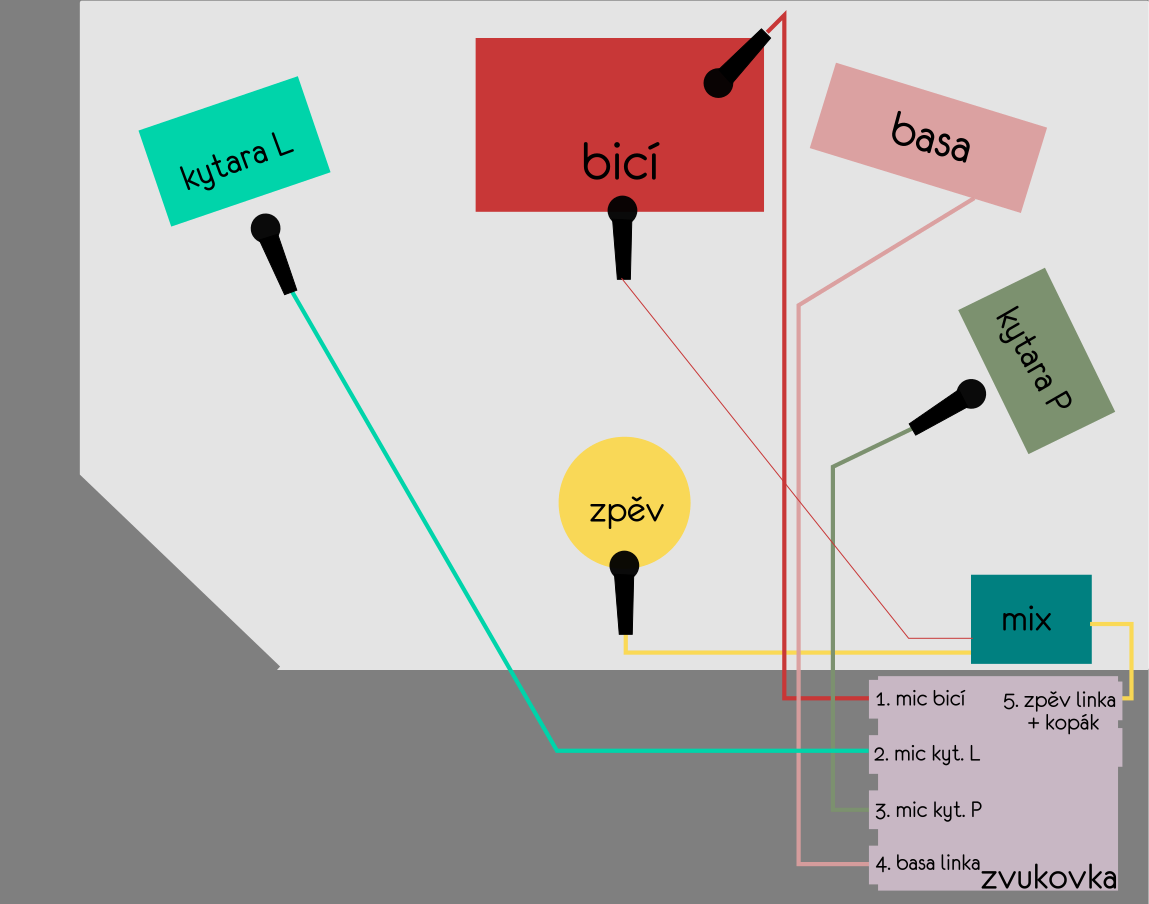 Všehovšudy jsem použil pět mikrofonů/vstupů na zvukové kartě (Steinberg UR44). Jak vidíte na ilustračním obrázku, tak zpěv a kopák byl zapojen přímo do PA zesilovače a mixu, takže jsem bral zvuk přímo určený pro publikum. Má to  svoje velké nevýhody, jak si ještě ukážeme.
Jako overhead nad bicí jsem použil klasický kondenzátorový mikrofon, umístěný za bubeníkem. Basový aparát jsem vzal klasicky přes linku (tady není co řešit) a oba kytarové aparáty jsou sejmuté běžnými dynamickými mikrofony.
Jako DAW jsem použil Cubase 4 LE, kterou jsem měl nainstalovanou na stařičkém stolním PC od HP.  V pohodě to všechno stíhalo a nebyl s tím nejmenší problém. 
Takže velice prostý, nenáročný setup, který by nemusel dopadnout  špatně. Ostatně…jaký je výsledek posuďte sami.           Na nahrání zkoušky s vaší kapelou je ale tento postup příznivý, nepotřebujete pro nikoho sluchátka (mají před sebou odposlechy) a kapela se může soustředit pouze na svůj společný výkon.
Nasekal jsem ale několik chyb, takže výsledek ale může být ještě o něco lepší: 
Mé chyby:   
Problém č. 1: Zpěv a kopák byly v jedné stopě a proto je jejich pozdější úprava daleko složitější (mix. pult bohužel neměl výstupy pro jednotlivé stopy 🙁 ) . A protože jsem bral tento signál ze zvukařského pultu, tak jsou v něm slyšet i efekty přímo z onoho mixu :(. To téměř znemožní pozdější práci (prostě z té stopy nejde dostat ten hall a delay). Na zkoušce by to bylo lepší, tam si nastavíte pouze "suchý" zvuk a máte vyhráno.  
Řešení: Příště rozdělím signál ze zpěvákova mikrofonu – třeba pomocí nějakého předzesilovače, nebo malého mixu. Takže ještě předtím, než přijde zvuk ke zvukařskému pultu, si ho rozdvojím a pošlu rovnou do zvukové karty. Tím dostanu svůj suchý zvuk a zvukař si může použít jakýkoli efekt. Co se týká kopáku, tak na ten můžu použít ještě jeden volný vstup a další mikrofon. Bicí tedy budou nakonec na dva mikrofony.
Problém č.2: Nebyl jsem spokojený s umístěním bicího overheadu. Jednak zvuk mohl být více konkrétní, ale také mikrofon zabíral až příliš ze zbytku kapely a publika. Vznikají tak fázové trable, které jsou později obtížně řešitelné a v nahrávce je až příliš slyšet místnost. Opravdu začátečnická chyba, které se můžete velice snadno vyvarovat :D.
Řešení: Mikrofon otočit, aby tolik nemířil do zbytku podia a nebo ho dát opravdu vodorovně, aby směřoval kolmo nad bicí soupravu. Také ho příště umístím o něco níže. Pokud nahrávate celé bicí jen jedním mikrofonem, tak je jeho poloha a směřování o to víc důležitější a měl jsem tomu věnovat více času.
Vše ostatní se snímalo zblízka a to už pak záleží jen na nastavení aparátů, kvalitě vybavení, ladění bicích, kvalitě hudební produkce a na akustice v místnosti. A samozřejmě také na výsledném mixování a masterování :). 
Záznam živáku je potřeba trénovat stejně jako vše ostatní, často na koncertech bývá chaos a proto je dobré se co nejvíce připravit a ideálně začít s tužkou a papírem: přehledně si nakreslit plánek, sepsat potřebné vybavení a vytvořit si v DAW potřebné stopy a propojit je se vstupy do zvukovky. S plánkem jde prostě všechno snáz 😉 a je to moje dnešní rada číslo jedna.
I přes mé fatální chyby si myslím, že se výsledek docela povedl a já získal další cenné zkušenosti (a o to mi šlo). Příště to bude zase o mnoho lepší.
Tak a to je pro dnešek opět všechno. Snad jsem vás zase trochu inspiroval k vlastnímu experimentování. Budu moc rád, když mi pošlete vaše vlastní výsledky, připomínky, rady a dotazy.
Pokud byste měli problém v mixu a masteru, tak neváhejte a napište. Mohu vás taky rovnou přijet nahrát, takže příště může být "Domácí studio na cestách" i z vašeho města :D.  
Přeji hodně úspěchů mějte se úžasně!